Learn about our monthly coffee selections, our origin of the month. Every 30 days or so we bring you an exotic new coffee to try.
Origin For December 2022
Burundi Mageyo
One of the greatest parts about our world coffee tour is bringing in coffees from countries that we know none of you have ever tried. The December origin is one of those. We are confident that none of you have ever had coffee grown in Burundi. Because of this, I want you all to use your imaginations.
Picture yourself in a boat on a river, with tangerine trees and marmalade skies…no wait- that's a Beatles song (younger coffee people- ask your parents). Let me start again.
Picture yourself on a small hall in Africa. You are standing next to a coffee mill. Lush vegetation surrounds you. You look around and see chickens freely roaming amongst fruit trees. There are nine higher hills around you and on all of them are rows and rows of coffee trees, their cherries red and ripe, just waiting to be picked.
This is where the December Origin of the Month was grown. The Mageyo Mill in north-west Burundi.
Burundi A Mageyo is a wonderful coffee, full of flavor and above average body. The body is so prominent you might think the coffee is bitter, but it is not. It is simply a great coffee that you have to try. Imagine telling your less sophisticated friends that you are drinking a coffee grown in Burundi. But, before you tell them, bet them a dollar they have never had coffee from Burundi. My guess is you win the bet every time. Some of you have a more highly developed palate. You may actually catch notes of peach or lime or black tea.
The back story here is fantastic. The Mageyo Mill is one of 13 mills that are part of the Akawa project. This project came about to help coffee producers in the region break the cycle of poverty in a way that is sustainable and equitable. The coffee producers simply wanted fair pay and better living conditions. The Akawa project is focused on making this happen. Photo credit La Colombe Coffee Roasters.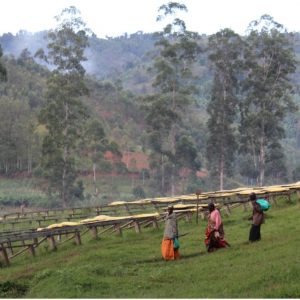 premium of the quarter Oct-Dec 2022
KENYA IYEGO FCS
This coffee was processed at The Marimira Factory in Kenya's Murang'a County. This county is known for its fertile farming soil and cool climate. It is also the ancestral home of the Kikuyu people. These are interesting people who believe in an omnipotent Creator whom they refer to as Ngai.
More than 600 farmers bring their harvest to the factory for processing. Each of these 600 farmers farm about .98 acres. That's tiny in comparison to what we see here in the states. This coffee consists of 3 varieties that we have not brought you before now. We have brought you Bourbon, Catuai, Catimor, Caturra, Pacamara, Typica and several other varieties of coffee. This coffee consists of the SL34, SL28, and Ruiru 11 varieties.
It is grown in deep red volcanic soil rich in organic matter that gets between 47-59 inches of rain per year (Van Wert gets about 38 inches per year). This coffee is handpicked, sorted by floatation and density checks before cherries are pulped, fermented, and washed from water sourced from the Mukungai Stream. Sun drying is completed under careful supervision on raised beds until the parchment reaches 10-12% moisture, then transported to the dry mill where it is prepared for export.
This coffee is a really good, medium to heavy bodied coffee, with a cup score of 87.75. As a reminder, only 1% of the world's coffee has a cup score of 90 or higher. Those of us who have more discerning palates may get notes of peach, plum, pomegranate, blackberry and honey.