Origin For May 2022
NICARAGUA LA BASTILLA COFFEE ESTATES H1 HYBRID WASHED 2022
La Bastilla Coffee Estate, located in the north-east region of Jinotega, NIcaragua, is renowned for its
coffee. Surrounded by the natural reserve Cerro Datanli El Diablo, just a few kilometers from Lago de
Apanas, Finca La Bastilla is a tropical paradise for the fauna and flora founded on deep, favorable
volcanic soils. Since 2003, the farm has been certified by the Rainforest Alliance and is striving for
continued excellence. On its two farms, La Bastilla and Santa Luz, the estate employs around 50
permanent and up to 500 temporary employees during the harvest season.
Finca La Bastilla creates opportunities for sustainable lifestyle and income through activities including
education at the La Bastilla Agricultural Boarding School, providing on-the-job training for students and
hosting an ecolodge for visitors who become part of the farm's activities. The environment is conserved
by maintaining efficient use of river water. To prevent pollution, contaminated water is treated in bio-
digesters, producing methane gas. this gas is channeled to the kitchen to be used for cooking.
Micro-farms have been created throughout the estate, so that the coffee can express its full potential in
accordance with the different microclimates. Each farm is further divided into lots. Lots are
differentiated through the micro-farm, but also the variety of the coffee, the altitude and the
processing. Overall, La Bastilla produces up to 150 micro-lot coffees!
The picture below is of the Eastern Highlands.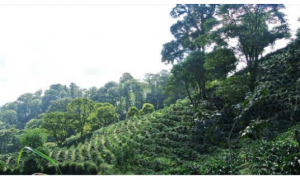 premium of the quarter
Haiti High Elevation Savanne Zombie
This coffee scored a 92 in Coffee Review.
Legend, folklore, tradition etc.… in Haiti holds that farmers once rose people from the dead and forced these zombies to work the fields. This coffee was grown in a Haitian town called Zombie Desert. I'm not saying that zombies picked this coffee for you, but…
This Coffee Cooperative produces about 600 bags of coffee every year. Although small in size, the cooperative pays its growers substantial prices for the harvested coffee. In fact, they pay the growers about 300% higher than the Fair-Trade minimum. It is not done out of charity, but in recognition of an exceptional product. There are 75 or so farmers in this cooperative, with the average small farm being about 2.4 acres.
"Founded" in 1659, Haiti was founded as a French colony. It was first called Saint Domingue. Coffee was introduced in Haiti as a cash crop in 1715. Believe it or night, by 1788, Haiti (Saint Domingue) supplied half the world's coffee.
This one is very smooth and you will definitely taste that it is a Premium Origin. It has a clean, smooth body, is low in acidity and is slightly sweet. It just might be your perfect cup of coffee!