Origin of the Month
Learn about our monthly coffee selections! Every 30 days we bring in a new exotic origin and a new premium origin every quarter.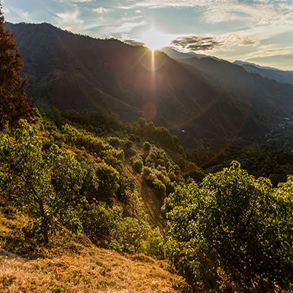 Origin of the Month
Costa Rica La Alianza Madre Tierra
Costa Rica La Alianza Madre Tierra. Every serious coffee drinker knows Costa Rican coffees are fantastic. Till now we have been bringing you coffee from the Tarrazu region of Costa Rica, as a single origin and as a component of Morning Blend and Four Seasons.
This La Alianza Madre Tierra was grown in a different region of Cost Rica, the Brunca region. It is every bit as good, possibly even better than the Tarrazu.
This coffee was grown by a cooperative of about 100 farmers, each holding only a few acres of farmland. The cooperative makes life much better and more profitable for each of the farmers. At harvest time, the cherries are processed at the cooperative's mill. The cherries are placed in a tank of recycled water, where the less dense and damaged beans float and then are removed from the lot. Only the highest quality beans are left to be processed and dried.
This is a fantastic coffee; super good. So good, in fact, that I would put it in the top 5 of all the coffees we have brought you. You absolutely must try this coffee. It is smooth, well-bodied, and slightly sweet. While enjoying this cup, you may get notes of Brown Sugar, Milk Chocolate, and Orange.
Origin of the Quarter
East Timor Peaberry
This is the second coffee we have brought you from East Timor. The first (August 2021) was not a Peaberry, but was a smash hit, nonetheless. This is also the second Peaberry we have brought you.
The first was from Tanzania (September 2022), and many of you considered it a favorite. Peaberries are rare (only about 10-15% of the world's coffee) and are formed when a genetic anomaly causes only one bean to form inside the coffee cherry. There are no Peaberry coffee plants, and that is part of what makes them more expensive. First, they are rare, and second, workers have to sort them out from the rest of the harvest.
This coffee was grown at elevations between 2,600 and 5,200 feet above sea level and the beans are extraordinary. East Timor coffee is grown on small, family farms usually smaller than 2 acres. The acidity is bright and that results in a full-bodied, slightly sweet, cup. The flavors are complex, but if you work at it, you can detect syrupy caramel overtones.
Coffee has been grown on East Timor for about 400 years, in the beginning by Portuguese colonists. However, an infestation of leaf rust wiped out a harvest and the Portuguese stopped growing coffee. The East Timor natives kept working on it through and in the early 1900's the Hibrido de Timor varietal was grown successfully.
photo credit: macaomagazine.net