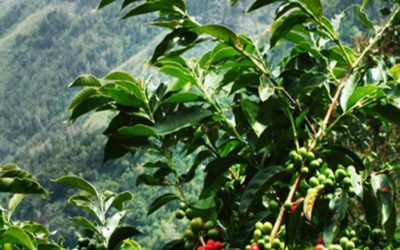 Notes: Strawberry, Watermelon, Papaya, Cane Sugar
The Kintamani Highlands are known as the coffee capital of Bali. This coffee was grown there on the volcanic plateau of Mount Agung at an elevation of 5577 feet above sea level. It was grown in soil very rich in minerals in the shade of citrus trees (specifically erythina, albizia, tangerine and orange trees).
Bali's laws make it illegal to use pesticides, so all fertilizers used by the coffee farmers are 100% organic. This coffee has absolutely the most unique flavor profile that we have experienced here at Convoy Road Coffee Roasters.
This coffee consists of three varietals; Bourbon, Typica and Catimor. It is full bodied, smooth, slightly sweet with distinct flavor notes; from it being grown amongst the citrus trees, that you just really have to taste for yourself.