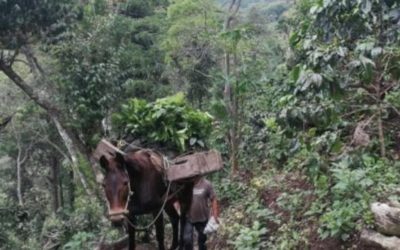 El Salvador Finca Santa Josephita Bourbon Natural
Notes: Red Apple, Dark Chocolate, Black Cherry
The farm on which this coffee was grown, Finca Santa Josefita, is pretty special. It is named after the woman who started the farm in 1932, Mrs. Josefa Ariz. The farm is run today by two families, the Limas and the Socios.
This farm has been awarded the Cup of Excellence 3 times! This farm conserves a natural rain forest that is hundreds of years old and is home to many diverse animal species. Finca Santa Josefita is a member of the Cuzcachapa Cooperative and is Rain Forest Alliance certified.
This coffee was grown at an elevation of about 4265 feet above sea level. After harvest, the farmers transport the coffee cherries a few kilometers down the road to the Balcanes Mill, where they are processed and patio dried for 18 days. This process is called the natural process.
All of this coffee is of the Bourbon (pronounced Burr-Bone in the coffee world) varietal. We have brought you other Bourbon coffees. Some of you will remember the Bali Blue Moon Blue Bourbon, a huge customer favorite.
Some of you will also remember the La Hondurena we brought you in July 2021. The first drink of La Hondurena made me stop, look down at the cup, and say- "Wow, that's a great cup of coffee." Well, this El Salvador has done the same thing to me.
Wow- it is a great coffee. It is smooth, full bodied, and slightly sweet. You absolutely must try this coffee. The more sophisticated coffee drinkers among us may get notes of Red Apple, Dark Chocolate, and Black Cherry