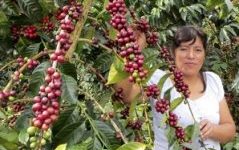 Peru HB Chanchamayo
This coffee was grown in the Chanchamayo region of Peru by family-owned smallholder farmers. Smallholder farmers generally farm less than 5 acres of land.
It was grown at an elevation of about 4000 feet above sea level. This coffee is super smooth, yet is complex and deep with a great aroma, making for a truly great coffee experience. The recommended roast level here is medium.
There are several varietals that are grown on the smallholder farms that contributed to this lot. These include Bourbon, Catimor, Mundo Novo, and Pache.
I find myself craving this coffee. It has been on my mind constantly since the first cup. The more sophisticated coffee drinkers among us may get notes of walnut and cocoa.
Photo Credit-chanchamayo-fair-trade-coffee-peru-